Back to news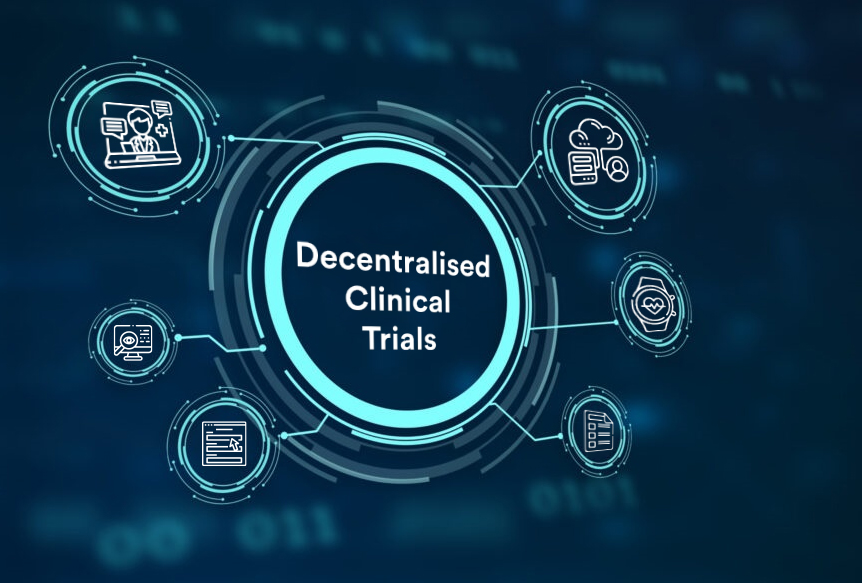 Pivotal decentralized clinical trials
Pivotal decentralized clinical trials deliver purpose-built clinical services and industry-leading technologies that engage patients independent from their location.
The participation in a clinical trial is remarkable commitment for the patients and families.
Decentralized clinical trials are no longer dependent upon a centralized location. This allows a wider population to participate in trials which can be monitored remotely as well.
The selection of proper decentralized clinical trials elements is important for a successful trial conduct. This ensures smooth management, collection, and processing of data from various locations and sources.
It is critical to choose a technology partner with a solid understanding of the patient experience. It's a key measure, especially with patients who can be significantly burdened and ill from both disease and treatment.
Notifications and reminders to complete tasks and upcoming appointments, built into the technology, alleviates undue stress on patients.
When they feel heard, in control, and less burdened they stay more engaged, resulting in better, more complete data.​
We aim to limit frequency and duration for on-site visits. They can be substituted as off-site visits, conducted by health care professionals (Vital signs, blood draws etc.) at home, or locally near patient's home.
The patient concierge is offered to plan and coordinate transfer, travel for patients and any possible accompanying family member.
The patient experience is one of the main factors. A successful patient experience includes an easy-to-use solution that allows the patient to access all required study information in real time. In addition, it is essential for them, to choose how they want to interact with the application, either through mobile app or web portal.
Providing solutions which are easy to understand and used, empower the patients to be a part of the science with their contributions – not burned out by the requirements.​
The real time feedback of patients on the study conduct and treatment is another important point to be implemented. The right technology enables timely responses in all possible situation.
The goal is to find decentralized clinical trial solutions that work harmoniously for clinical sites, patients, and clinical staff.
This is done by using expert knowledge of therapeutic areas combined with data analytics and our expert teams.​
Benefits of decentralized clinical trials
The key considerations for choosing elements of decentralized clinical trials are:
Understanding the clinical and regulatory guidance around decentralized clinical trials.
Knowing the technology that provides benefits for both trial participants and clinical research staff.
Planning for operational changes.
Provide the optimal solution by selecting decentralized clinical trials elements to minimize patient – and site burden.
With the goal of real time data capture, as well as providing a user-friendly interface, the platform should be flexible. The platform allows data collection in different (direct and indirect) ways (through wearables, or eConsent and eCOA/ePRO), which can be integrated in the EDC solution.
Everyone knows smartwatches, they can be used as one of the devices to collect patient data in a suitable way. These devices are not invasive but monitor continuously certain parameters.
They can track different measurements relevant for a trial, such as heart rate, blood pressure or respiratory rate. In addition, it is possible to capture movement related metrics such as seizures, gaits, and tremor.
The wearable devices are connected to a platform to assess and import them into EDC in real time, which enables site staff to analyze outcomes.
Endpoints for decentralized clinical trials
The selected decentralized clinical trials strategy should fit the needs of the study and adds measurable value to the study design. The aim is to collect all required study data to meet the primary and secondary endpoints.
Consider the entire patient journey and the patient population to map the appropriate decentralized clinical trials strategy for the trial (i.e., age, disease, condition, use of internet capability and accessibility).
Does the Protocol allow the usage of selected decentralized clinical trials elements. The investigational product suitable to be shipped to and can be administered at patient's home.
Ensure country regulations do not limit the use of decentralized clinical trials elements in some countries (i.e., eConsent is not fully accepted globally).
Site engagement within your selected decentralized clinical trials design (i.e., understand the site logistics, assess training effort a single login, user friendly design of the platform will lead to sites engagement).
Understanding of data flow, review compliance and assess Vendor Management efforts to mitigate risk.
Conclusion of decentralized clinical trials
The clinical research industry has clearly shown the benefits of decentralized clinical trials elements can bring to patients and sites.
The Regulatory Authorities are more open to accept decentralized clinical trials elements.
It is now imperative for the expert team, who develops the decentralized clinical trials set up to understand what the key considerations are. To be able to build them with the required flexibility into the decentralized clinical trials set up to ensure success.
MEDIA CONTACT
Ms. Natalia Farr
natalia.farr@pivotalcr.com