Back to news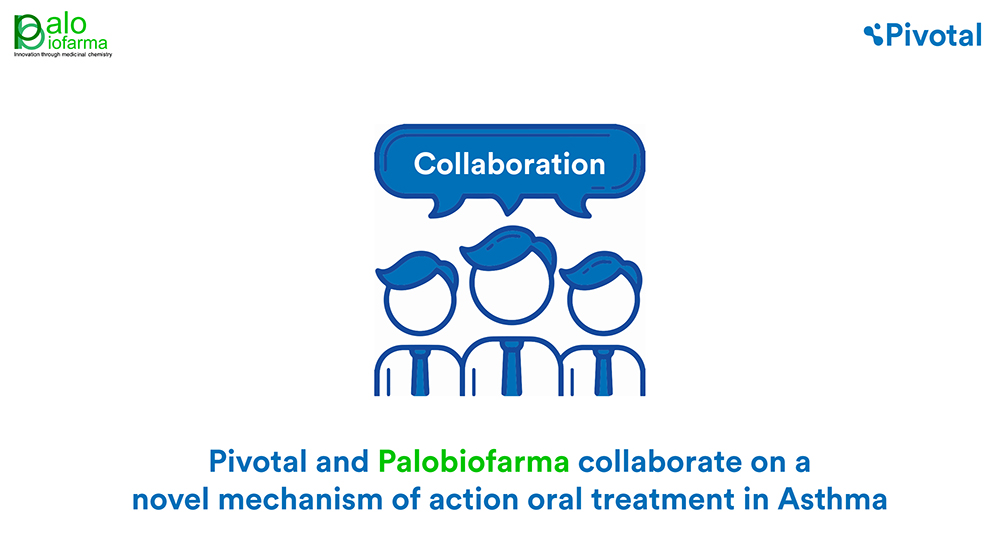 Pivotal and Palobiofarma collaborate on a novel mechanism of action oral treatment in asthma
New collaboration aims to further accelerate the delivery of investigational treatments for asthma
Pivotal and Palobiofarma announced today a new strategic collaboration to expand access of patients to novel therapies in asthma.
Asthma is a chronic respiratory disease characterized by airway inflammation and affecting all age groups. Its prevalence is increasing in many countries, especially among children. Prevalence of asthma in 2014 among the Spanish population was about 5%, of which 10% were diagnosed with severe asthma. Estimated current prevalence of asthma in European countries among adults aged between 18 and 44 years varies between 3-10%. The rates of disease tend to be higher in Northern and Western European countries where the prevalence may be higher than 10%.
The long term goals of asthma management are to achieve a good control of symptoms, maintain normal activity levels of the subject with asthma, and minimise future risk of exacerbations. Current treatment of asthma usually follows a control-based approach where patients are identified for a change in asthma treatment on the basis of a poor control of symptoms or the presence of a low lung function or frequent exacerbations. Although therapeutic advances have facilitated the management of the disease, a significant proportion of asthma patients suffer from severe disease, refractory to current therapies.
Adenosine is considered an important signalling molecule in human asthma, with a function in both the acute bronchoconstrictor and airway inflammatory responses. PBF-680 is an oral adenosine A1 receptor antagonist that has successfully completed single dose escalation and treatment-period phase-I trials in healthy volunteers, plus a crossover, proof-of-concept Phase-IIa trial in mild and moderate asthma patients, in whom a single dose significantly attenuated airway hyperresponsiveness to AMP challenge and increased 8-hour post-challenge on Forced Expiratory Volume in 1 second (FEV1).
"The combined expertise in drug development and clinical research excellence of Palobiofarma and Pivotal will enable us to accelerate research and provide access to novel investigational agents," said Dr José Javier García, MD, VP Data Management and Biostatistics at Pivotal, "We look forward to impacting positively the lives of people facing asthma throughout Europe".
The trial is a phase II, double-blind, randomised, parallel-group, placebo controlled multi-center study to investigate the effect of the adenosine A1 receptor antagonist PBF-680 on FEV1 in patients with mild-to-moderate persistent atopic asthma. The trial will be performed in 9 sites to recruit 78 patients. The primary objective of this trial is to demonstrate an improvement in FEV1 after a 15-day treatment with PBF-680 compared to placebo in mild-to-moderate asthma patients. Secondary objectives include assessment of FEV1, Area Under the Curve (AUC), evaluations on pre- and post-bronchodilator FEV1, and Patient Reported Outcomes (PROs), including Asthma Control Questionnaire-7 (ACQ-7) and Standardised Asthma Quality of Life Questionnaire (AQLQ(S).
"We are very excited with the initiation of this phase II study with PBF-680 in asthma. This is the second phase II trial analysing efficacy outcomes of PBF-680 in mild to moderate asthma patients, following the supportive data from the proof-of-concept trial on the effect of PBF-680 on airway hyperresponsiveness to adenosine monophasphate (AMP)," said Dr. Julio Castro, Chief Executive Officer at Palobiofarma, "This study represents another cornerstone in Palobiofarma efforts to explore the potential of adenosine modulators for the treatment of inflammatory diseases like asthma".
MEDIA CONTACT
Ms. Natalia Farr
natalia.farr@pivotalcr.com